29 Jun 2016
In the final yards of the final event of the decathlon at the 2012 US Olympic Trials, Curtis Beach did something remarkable. He relives the selfless act that contributed to one of sport's most iconic moments.
"I had no-marked in the javelin," Beach tells SPIKES. "My elbow had been injured and it wasn't worth risking further injury for anything. Had I been on the bubble for third then I definitely would have thrown, but at that point it just wasn't going that well for me and I purposefully fouled out.
"But I felt like I almost had to line up for the 1500. It's about completing a decathlon. Even though it kinda sucks sometimes going into the race – and it does – I feel way better if I know that I finished. And knowing my family were there, my coaches were there and they spent the whole season working with me, I almost felt like they deserved to watch me finish, especially in my best event. I wanted them to see something that's worth it.
"I remember the last lap. I was running out front, but I was watching Ashton's race [Ashton Eaton was on course to break the decathlon world record in his hometown]. I was looking on the screen, looking behind me where he's at, not really paying attention to my own race.
"I went through the bell and I heard his split and what he had to run to get the record – and he is behind pace! I knew he'd be pushing it, but I didn't think he'd be able to close faster than for how hard he was pushing. I actually started to kick and forgot about his race at that moment.
"Then I suddenly hear everyone getting louder and louder. I look behind me and he is actually gaining. With 200m to go I look behind me again – he's getting closer. Then, at about 100 left, I look behind me again; he's really close and I'm like 'shoot I'm kicking, he's kicking faster, he's got a shot at the record!'
"With the last 80 to go, I just thought 'GO ASHTON'. I don't even remember thinking about moving out of the way. It just kinda happened and I let him go ahead and felt maybe it would be best for him to win as he broke the world record. It all went really fast and is kind of a blur.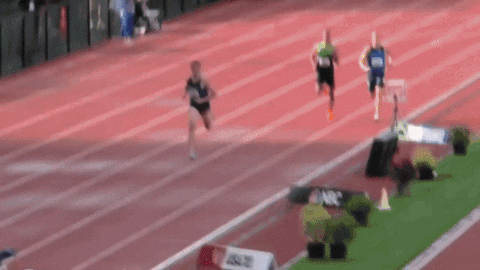 "No, I insist"
"When he went past I think I was just more of a fan at that point. I was watching the race, the entire 1500, because at that point I didn't have a shot at the team, so I wasn't running for anything. But Ashton was the big event and I'm a big track fan, so I was running and kinda giving it my best, but I was mainly just watching his race. I felt really just more like a spectator than anything.
"A funny thing happened. You don't usually get that jolt of excitement in a running event, like usually in the high jump and pole vault the immediate moment they make a bar everyone can just erupt and be super happy about it. But I didn't know if he was above or below 4:16 when he crossed the line and I remember looking up and seeing 4:14 and that's when I was like 'OH SH*T HE'S GOT IT'.
"I don't really believe in fate or anything like that. A lot of that decathlon, those two days, was a little eerie.
"Right before Ashton was about to line up and try break the world record in the 15, it'd been raining for the last two days and all of a sudden the clouds parted and the sun just shined on the track. It was like 'woah this is weird'. Everything about it was just a little bit magical.
#SQUADGOALS
"I later got a call saying 'hey you won the International Fair Play Award' and I was like 'that's cool'. I didn't really feel like I deserved it, I didn't do anything.
"If anyone would have deserved it, it would have been Joe Detmer, the guy who pushed Ashton to the world record. I was too far ahead to be actually pacing him, but Joe was just close enough to pull Ashton along, so I think he probably would deserve it a lot more. I was just watching. Honestly, I didn't even mean to do any sportsmanship act, it just happened.
"Where it gets really hard for a lot of competitors is when they start comparing people they're close with and projecting what they can do over what you can do, like three, four, five events ahead. And that's where it gets really stressful, when you're trying to predict something in the future, how you or someone else might do.
"But when you have someone like Ashton going for a world record, I think 1) he's usually so far ahead, you're just cheering for him, and 2) it's just the personality of decathletes, even if you are close, you are still pulling everyone else with you because it's so hard. You make it through the decathlon together and I think that's just what it's all about.
"I think if I look back on it, I definitely didn't really intend for it to be like this, but I don't know, I think it's a big symbol for what the decathlon is all about. I think there are a lot of other decathletes who would have done the same."
Eaton crossed the line first in 4:14.48 to notch 9039 points – a decathlon world record.
RE-READ: Ashton Eaton's (new) world record diary
"It's kind of a blur"