8 Sep 2017
During the IAAF World Championships, the internet fell in love with Devon Allen. And quite frankly, who can blame them? We catch up with the hottest property in athletics since the invention of all-weather tracks.
"Don't be a fanboy, Devon"
Aged five, Devon Allen started playing football, but always enjoyed "pretty much every other sport". It wasn't until "fourth or fifth grade" that a volunteer at YMCA, where he'd spent his summers, discovered his speed during a game of kickball and asked him to join her dad's track club. His first couple of years were "a bit wishy-washy", but during his third year in the sport the Arizona-native won youth state titles in the 100m, 200m and 400m and realised, "ok I can handle this".
During a pentathlon, he first encountered obstacles, but it took him another couple of years to discover his talent for the hurdles.
"I watched [the Olympics in] 2012. That's the year I started hurdling," Allen recalls. "I was watching Aries Merritt and those guys – now I am practically on the same level as them. You don't want to be a fanboy, but it's really cool to run against guys like Sergey [Shubenkov] and Aries, Orlando Ortega. I was studying them when I started with the hurdles."
Double trouble
Allen made a name for himself as a two-sports guy at the University of Oregon where he studied for a business degree with a focus in sports marketing. During spring, he'd be bringing home collegiate hurdles titles for the Ducks, in the fall he'd be one of the most talented wide receivers in the PAC-12 Conference.
After a standout 2014 season – with a 13.16 PB and a US outdoor title under his belt – a right ACL injury ruined his 2015 season.
2016 was better. In June he won the collegiate 110m hurdles title, set a 13.03 PB on his way to victory at the US Trials in July and in August placed fifth in his Olympic debut in Rio. Shortly after his return to the Autzen Stadium in the fall, he tore his left ACL. It prompted the decision to put an indefinite halt to his football career and solely focus on track. In March 2017 he signed pro with Nike.
Hey there, Houdini
With football on the back burner, Allen had more time to focus on nurturing his other talents. At the IAAF World Championships he dazzled the crowds by casually pulling off a little magic trick during race introductions, before clocking 13.27 in the semi-final.
He missed the final by just three thousandths of a second – the fastest time any hurdler in history had run and not made a world champs final. Yet, the internet declared him the real champion of London 2017.
Magic tricks before big races might not be everyone's cup of tea, but Allen insists his pre race antics help him when toeing the line.
"You can be too focused and then it's going to have the opposite effect of not being focused at all," he explains. "I try to find a middle ground between that. Not that it has to be funny all the time, but I try not to focus on a race until it's actually about to start."
Luckily for the fans, he's got some other ideas up his sleeve, "they include a little bit of props."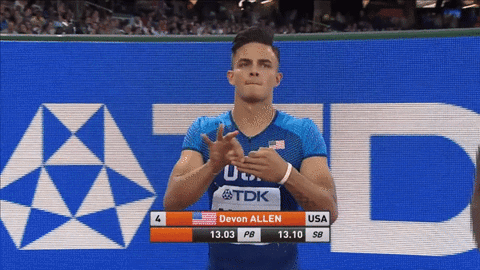 Rookie no more
Despite his premature exit in London, Allen's first full season as a pro has been overall satisfying. The circuit was a new experience for the 22-year-old, but spending time with more seasoned athletes made life on the road easier – although he is yet to master the art of packing.
"That's one thing as a rookie I can adjust to next year, learn how to pack efficiently," he laughs.
"I think I've always been good with meeting new people just because when I was younger I moved around a lot. I went to a new school every year. Being friendly and making an effort [on the circuit], sitting with some people that I don't know at dinner and talking to them and learning stuff from them helps."
New year, new challenge
Next year will be strange season for some athletes, Americans in particular, with no major outdoor championships to compete in.
Just like this season, speaking to more experienced athletes gave him an idea in how to approach the 'off-year'.
"I talked to Christian Taylor and he said next year is a year where he is just going to run in every meet," he recalls the conversation with the world and Olympic triple jump champion.
"He was like 'if they have high jump, I'm gonna high jump', and it made me think and I agree."
Allen's initial plan is "to focus on the on the indoor 60 hurdles" with the aim of a medal at the IAAF World Indoor Championships in Birmingham. Then things get a little more interesting: "I also want to supplement that with a bit of decathlon. I'd like to break the world record in the 110m hurdles decathlon [currently 13.44 held by Damian Warner]."
It's not his first stab at the multis. In 2013, aged 18, he competed in his last decathlon. "My first six events were good," he says. "The javelin I struggle with, I just don't know how to throw, and pole vault I really struggle with – I vaulted like 10 feet, that messed up my score." He still racked up 6478 points (with junior implements).
For Allen, the challenge is more than just a bit of fun. Decathlon training, he says, will benefit him mentally as well as physically: "There's something about doing quality training for different things.
"I think one of the reasons why I became a good athlete is because I was playing football half of the year. You just become a better athlete, more aware. Certain events make you think how you've got to put your body in the right position. You gain more control over your body in your specialist event."
0.003 between Allen (lane 4) and Hansle Parchment (lane 7)
Making history
While the 110m hurdles will remain his priority, he's also planning to fit in a few 400m hurdles races. Focusing on track alone for a full season for the first time in his life and without injuries, running sub-13 "should be a shoo-in" for 2018, but there's one other goal Allen has set himself.
"Omar [McLeod] was the first guy to run under 13 and under 10 [in the 100m]," he explains. "I want to be the first hurdler to run under 20 in the 200m."
It sounds like a tough ask – his current 200 PB is 20.63, but it's nothing compared to the challenge he set himself further down the line.
"I do have a magic trick set up for like four or five years from now," he hints with a grin.
"The best trick in the history of all tricks. If I win an Olympic or a world championship final, people will be like 'wow this is awesome'."
No pressure, mate.